Reparación de Laptops
Laptop Repair Miami – Reparación de Laptops
Reparación de Computadoras I laptops  en las instalaciones
Telefono (305) 999-1046
Reparación de equipo de Miami y de la tableta del taller de reparaciones – portátil y de escritorio Reparación – Pantalla LCD y Reparación – Eliminación de Virus – MacBook y iMac
Nuestro objetivo es ir más allá de dar servicio a su reparación de la computadora necesita para asegurarse de que no sólo nuestros clientes reciben un servicio óptimo es mi promesa,
Lo llamamos "Apoyo fanáticos."
 reparaciones del ordenador portátil en Miami 
Mi equipo técnico del ordenador se compone de ingenieros informáticos profesionales que están dispuestos y son capaces de hacer frente a estos nuevos retos mediante la implementación de soluciones innovadoras.
La satisfacción del cliente es nuestro objetivo!
Hay una gran cantidad de empresas de reparación de computadoras, pero ninguno como .
Presidente y oficial retirado Gary Green, con el vicepresidente Jorge Lale establecieron la compañía para servir el Condado de Miami-Dade, específicamente  Kendall and Coral Gables. Kendall  Pinecrest Fl  es una de las ciudades de más rápido crecimiento en Miami-Dade ya través de ese  crecimiento y ordenadores portátiles Miami han establecido una fuerte relación con las empresas y los individuos que componen este bien de la comunidad.
Ofreciendo a los residentes de Miami-Dade una amplia gama de servicios, tanto en el hogar y en la oficina de la reparación del equipo de y desarrollo, desde la gestión de campañas de marketing de correo electrónico a la creación de redes seguras. Echa un vistazo a nuestras buenas críticas de los clientes en Facebook, Yahoo, Google, Yelp y Citysearch! Vamos a llegar a usted, dondequiera que se encuentre dentro de Kendall y Coral Gables.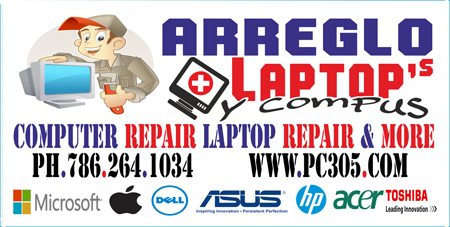 Vamos a llegar a usted, dondequiera que se encuentre dentro de Kendall y Coral Gables.¿Preguntas? (305) 999-1046
Códigos postales de las que servimos:
33156, 33158, 33173, 33176, 33183, 33186, 33193, 33196, 33256, 33283, 33296
Laptop & Computer Repair in Miami
 repairs Laptop in Miami 
My Computer Technician team is made up of professional computer engineers who are willing and able to face these new challenges by implementing innovative solutions.
Client Satisfaction is our goal!
There are a lot of computer repair companies, but none like .
President and Retired Officer Gary Green, with Vice President Jorge Lale established the company to service Miami-Dade County, specifically Kendall and Coral Gables. Kendall  Pinecrest Fl  is one of the fastest growing cities in Miami-Dade County and through that growth  Laptops Miami have established a strong relationship with the businesses and individuals that make up this fine community.
Offering Miami-Dade residents a wide range of services, both in-home and in-office from computer repair to and development, from managing email marketing campaigns to setting up secure networks. Check out our great reviews from customers on Facebook, Yahoo, Google, Yelp and Citysearch! We will come to you, wherever you are within Kendall and Coral Gables.
e will come to you, wherever you are within Kendall and Coral Gables. Questions? Call (305) 999-1046
Zip Codes we serve:
33156, 33158, 33173, 33176, 33183, 33186, 33193, 33196, 33256, 33283, 33296
Summary
Reviewer
Review Date
Reviewed Item
Author Rating